Manager£ºJiujun Li
Mobile£º+86-13903119840
Phone£º+86-0311-88708888
Fax£º+86-0311-88709840
E-mail£º86234885@163.com
Skype£ºsjz139
MSN£ºsjz139@hotmail.com
Postal Code£º050041
Address£ºYuhua District In
Shijiazhuang No.68 Road
side (b plant North)

water based natural real stone paint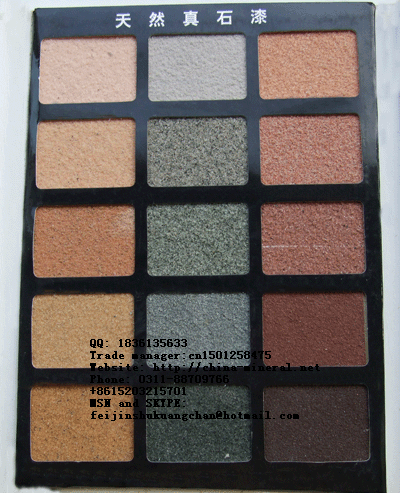 Berocks scenery natural true stone lacquer is the natural marble, granite stone, acrylic resin emulsion and additives. Its natural real natural colour and lustre, give a person with elegant and harmonious aesthetic feeling of solemn compared with natural stone material, light quality, no seams, strong adhesion, good colour retention, high quality and low price etc, can meet the needs of the different design, used in all kinds of external walls of buildings and a variety of columns, imitation marble, granite surface.
Product features:
1. Never fade, color lasting such as new.
2. Hydrophobic breathable, excellent outdoor weatherability.
3. Excellent tensile, wear resistance, resistant to impact.
4. The color is rich, gorgeous appearance, the simulation effect of stone.
5. The construction is simple, easy to clean, easy to renovate.
A healthy future, a colourful future, its Berocks Future, and we make arduous efforts to realize greener planet as well as a harmonious home.
QQ: 1836135633
MSN:feijinshukuangchan@hotmail.com